If we were squirrels, we could be very proud of ourselves. Every year, we in the UK take around 15 million tonnes of perfectly good food and bury it in the ground. However, we are not squirrels, and these growing annual food waste statistics are nothing short of appalling. Even if we compost religiously, ignore the 'Best Before Ends', and fill endless tupperware with vegetable soup, is this enough to get the titanic global food line to change tack? What can be done to stop this torrent of food going down the drain?
In recent years there has been a growing trend to reclaim some of these lost meals. They work because they are innovative and intelligent. They're paving they way by showing other businesses there's profit in the millions of tonnes of food waste. Here are a few ways companies are saving our planet, by changing the way we see food waste, the way use food waste, and the way we re-use food waste.
Changing the way we see food waste…
One of our favourite developments is the 'ugly fruit renaissance'. Books like Tim Smyth's 'Defective Carrots' first sparked awareness of the loss of millions of less-than-perfect fruit & veg. It paints a bleak picture of merciless steel optical sorting machines ripping wonky carrots from the sorting line. Innocently warped but perfectly edible, they are shuffled away from our eyes, to be forgotten about forever.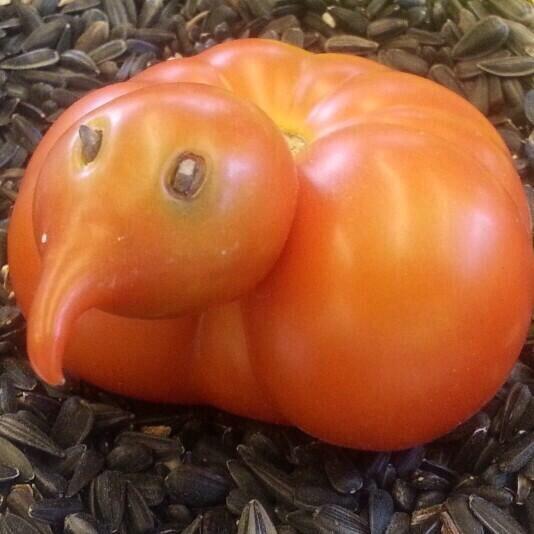 Needless to say, people were soon up in arms about the loss of our hilarious and wonderfully misshapen apples and pears. Several stores, including our own, have led the charge, offering 'weird' fruit and vegetables at reduced prices. French supermarket chain Intermarché even ran an advertising campaign in their honour. The movement is snowballing around the world. From Portugal to Canada, shoppers are giggling at look-a-like potato heads and smirking at suggestive squashes. I mean, just look how adorable and tasty this tomato-bird looks! Who wouldn't want to turn it into Spaghetti Bolognese?
Changing the way we use food waste
But of course there's more to food waste than saving phallic potatoes from landfill. The vast majority of our real food waste could be recycled into something useful. At the very least, something like high grade fertilizer. But we can to do better than that and some companies are using technology to take it to the next level. The San Francisco Scavenger Company (The SFSC) is radically reducing costs by turning food waste into fuel for their fleet of trucks. Most food-to-fuel digesters, like the ones shown in the video below, produce methane quickly by speeding up the decay of organic material. This can be used to generate electricity. See the video for more details on how.
The SFSC has gone a step further than that. Late last year, they teamed up with Zero Waste Energy Inc. to build the Blue Line Transfer anaerobic digester system. "We're excited about the new digester," says Doug Button, president of the company. "It allows us to turn compostable food scraps into fuel for the very trucks that collect those materials. It's a truly closed loop system".
His was the first digester in the country to produce industry quality Compressed Natural Gas transportation fuel from organic waste. The technology is almost completely clean, with only a nutrient rich fertilizer as a by-product. Ready for the numbers? This facility will produce over 500 diesel gallon equivalents (DGE)  of carbon negative (clean), biogenic (renewable) Compressed Natural Gas every day! Over the year, the facility will churn through over 11,000 tonnes of organic waste, sourced from local businesses and households. This allows them to power their entire fleet of around 20 heavy duty lorries, for next to nothing. No wonder Doug is getting excited. Expect to see this technology coming to a garbage truck near you soon.
Changing the way we re-use food waste
This last business is one that we know well, even personally. Rubies in the Rubble owner Jenny Dawson left her job at a hedge fund to start a company she could be proud of, a business that produced a positive change. She focused her new enterprise on tackling two of her primary concerns; food waste and vulnerable young women. Her model was simple: she would employ young women to make chutneys and jams, from fruit and veg thrown away by market vendors.
In 2012, only two years after it was founded, Rubies in the Rubble won a social enterprise competition (the first of many awards) run by Ben & Jerry's and has been going strong ever since. Their chutneys are now stocked across the UK and Ireland, they even have a pickle commissioned by chef Jamie Oliver (The London Pickalilli). We're proud to say you can pick them up in the The People's Supermarket. Even though it may only be a small dent in the torrent of food waste, it's one that's growing, and business model that can be repeated globally.
They may seem only small changes, but all these companies are lighting the path for businesses around the world. These are practical, and in most cases profitable, solutions to our food waste problems that can be adapted to work in almost any country. If we can continue to embrace these behavioural changes within industry, and find ingenious new ways of making them profitable, then we may start to stem the tide.